How jazz was born
11:21 PM
Hello there everyone!

Firstly I want to say a huge welcome to my new followers, I've had quite a few new ones in the last week, and I want to say thanks so much! I hope you find something here that you like :)

I've recently got a gorgeous new dress in the mail, and I'll post about it soon, when I have a little more time. For now I just wanted to share with you my latest favourite video on the net, a snippet from the 1948 film 'A Song is Born'.



I have to be honest and say I haven't seen the whole movie; I hope to find the time in the holidays, when study is over (if only for a week or two). But I've watched this over and over. Isn't it just incredible? Full of the best kinds of things; sharply dressed men, fabulous fashion (SO FABULOUS! I especially love the lady in dark green at 1:48, the printed turquoise and purple frock on the woman at 3:28, the amazing black feather hat at 3:39, everything about the lady behind Louis at 5:05, and of course, the elegant Virginia Mayo as Honey Swanson), all the best most talented jazz musicians and their toe tapping, hip swinging, danceable jams, and the effervescent Danny Kaye.

I cannot get enough of this, and i wish I could squeeze myself into every scene :)

On a somewhat related note; Virginia Mayo was particularly fabulous in general. Don't you agree?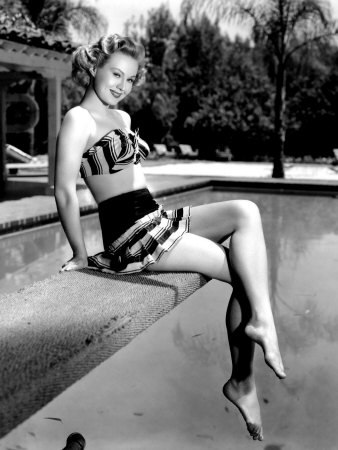 I will never look as perfect as this. So. Pretty.
See you again soon!
x